Composite Recycling proactively partners with key industry players to ensure our outputs integrate seamlessly into existing manufacturing processes – because we see no value a "recycling" output with no clear application for reuse.
Our strategic partnerships help us to establish complete, end-to-end networks for the recycling of GFRP into fibres and oil that are reusable for our industrial clients.
Specifically, we have partnerships upstream in the value chain to ensure an ample supply of waste composite materials to recycle.  And, we have done the studies and testing with partners downstream to refine our technology, so that our reclaimed fibre and oil ouputs work well within their existing manufacturing lines, and enable them to produce new, sustainable composites.
As a first example, take the recycling value chain we've established in the boat manufacturing sector.
Case Study: Boat Recycling Value Chain
The country of France leads the world in recreational boat building—but also has 200,000 tonnes of waste boat hulls clogging harbors, shorelines and riverbeds.  Thus it is no surprise that the French government has taken the lead in organizing the world's first national boat recycling program.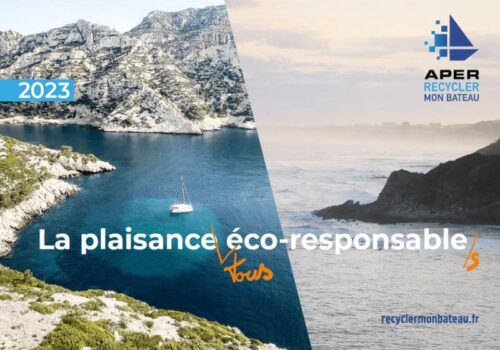 The French national agency for boat recycling, the Association for Eco-Responsible Yachting (APER), comprises 30 boat dismantling centers around the country, with the treatment of end-of-life boats funded through yearly registration fees and taxes
At these sites, the metal, wood, and fabric elements are removed for resale or recycling, and then the boat is "depolluted" to remove toxic elements like oil, gas, and batteries.
Boat hulls: the missing piece
The final, "missing piece" in APER's mission to offer a complete solution for end-of-life boat recycling has been the waste boat hulls, due to the difficulty – up to now – of recycling large quantities of waste fibreglass at their sites.
APER was able to put the last piece of the puzzle in place, in December 2022 at the Paris Boat show, when they signed an exclusive agreement with Composite Recycling to take on the recycling of these boat hulls with their mobile recyling units.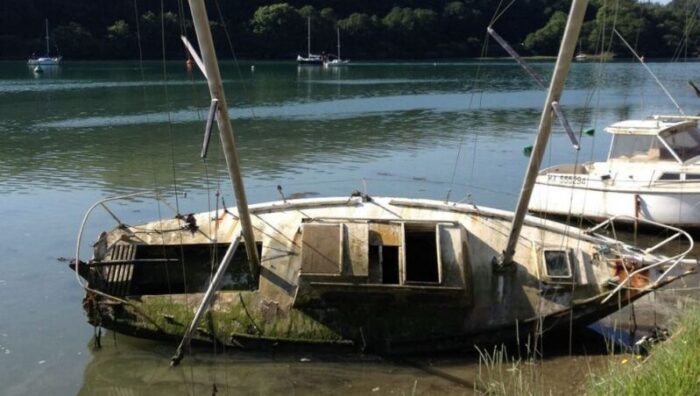 This strategic partnership means that starting in 2024, APER will be able to "close the loop" on boat recycling in France.
Meanwhile, it also secures our access—upstream in the value chain—to large volumes of waste fibreglass for recycling.
"We are working hard to find solutions.
This will be achieved … thanks to innovations such as the one developed by Composite Recycling.
The opportunities are enormous and will allow the conversion of waste materials into new composites."
L. Debrievre, Deputy Managing Director APER
This secure supply of waste GFRP is of keen interest to the downstream clients – fibreglass manufacturers and boat builders – who purchase the outputs of the boats we recycle in order to manufacture new sustainable composites – and new boats.
To that end, we have formed a technology partnership to produce fibreglass mat containing reclaimed fibres with the French-based composite manufacturer Chomarat, and to integrate this fibreglass mat into new boat builds with world-leading boat manufacturer Groupe Bénéteau.  This three-way partnership was honored by the marine industry at METSTRADE when the partners received the 2023 Boat Builders Sustainability Project of the Year.
Thanks to this industrial partnership, we have been able to validate the quality and industrial-scale reusability of the reclaimed glass fibres for the marine industry.
"Closing the loop" on boat recycling will become a reality when our first industrial-scale machines are deployed with APER in 2024, giving our clients access to the full value chain, whether they seek waste treatment services, or reclaimed inputs for new manufacturing.

Other Industrial Value Chains
Meanwhile, given the accumulating composite waste crisis and the increasing pressure from regulators to eliminate landfilling and incineration, manufacturers across all major industries are urgently seeking this type of recycling solution.
Thus we are actively engaged in constructing similar end-to-end networks with leading players across all major industries–automotive, aerospace, wind, chemical, and energy, among others–to facilitate the ease of reuse; to secure markets for the recycled content; and to enable industry to continue working with fibreglass as a key input to their manufacturing processes.
Finding an alternative to disposing of composite waste has become "critical to our freedom to operate" in Europe.
Manager of Innovation, $9B global chemical company
Get in touch to discuss how we can support your organization in developing a robust recycling and reuse strategy.